After months of waiting and delays, Texplex at Fox Creek, located in Hollister, MO, has received its conditional use permit to begin operations. The Midwest Krawlers were instrumental in helping the ownership group obtain the permit by sending letters of support for them to present to the Planning and Zoning committee asking for its approval. There is power in a collective!

In recognition of our efforts, the Midwest Krawlers were invited to an exclusive visit to the park this past weekend to get a first look at the park and provide our feedback and guidance as to how to improve the property. After communicating the invitation to the club members, we quickly put together a 25 rig expedition to go explore the park. While no one really knew what to expect, we were excited to have this first look opportunity.

Many made the trek to Branson Friday evening and met up at Mr. Gilberti's Place in Hollister for a feast of the Italian variety. With a large amount of vehicles descending upon the place, the parking lot attendant, already dealing with a full lot, was at a loss as to where to put us. There aren't a lot of limitations for this group so we said we could manage and made our own parking. The attendant exclaimed "I would have never thought of that". All enjoyed a good meal and the conversations that were had with friends, new and old.
We all gathered the next day at the local high school to convoy to the park. A 10 minute ride followed and we pulled in to the parking area to meet Daniel, the general manager of the park who was there waiting for us. The first hint to the newness of the facility was that the parking area was just a cleared area that still needed leveling and that there were piles of cleared trees that still needed to be hauled off. We joined the excavator and bulldozer that were also parked there.

The air temperature was about 28 degrees and there was a good breeze so it was on the chilly side as everyone began their trail prep of airing down tires and disconnecting sway bars. Daniel provided us with some general information related to the main loop that has been built and told us about a waterfall that would likely be of interest. Without a map of the 1500 acre site, we were pretty much on our own to follow the main trail and deviate how we chose to. We were asked to drop some pins as to where we thought there were opportunities to create some new trails they could build for us. From there, we were off on our adventure.
Leaving the parking area, we headed out on the main loop, a well cut, wide trail that has plenty of markings throughout. Mile markers are posted along the route which will likely be helpful as more trails get cut. The main loop consists of everything from flats to steep uphill and downhill sections that definitely require four wheel drive and are marked accordingly. There were a few areas on the loop that were downhill sections and extremely muddy where caution had to be used. All would likely agree that the main loop was in really great shape overall considering the rain that had come though 36 hours before.

If you want an enjoyable scenic drive, the main loop will take you 3-4 hours to complete as it appears to be at least 17 miles long and winds throughout the property. What we had not found in the first few hours of our visit was the path to the lowest land on the property which we were hopeful contained more rock. We did however find rock outcroppings in the higher elevation of the property that will eventually be fun areas to play in with some grading work.
We had one rig that could not engage 4 Hi or Lo and after some time consuming winching and towing with a strap, we decided it would be best to go park it before continuing our journey as we were not very far from the parking area. While there, we reviewed some data from the OnX mapping a member was doing and realized that we had looped back in our travels and had yet to see 2/3 of the park, which was likely the lower land we were looking for so after a quick lunch, we were back on the trails and knew where we needed to go.

It did not take us long to realize that the area we were now traveling into was what we had been seeking. The landscape changed quickly into rocky creeks and ravines. More ledges and rocks along the trail appeared and you could quickly envision what this area would look like with more clearing and grading. The winding trails eventually brought us to a very steep downhill section that was very muddy and everyone took turns working their way down the hill. At the bottom waiting for us was a big creek, the first we had ran across that was big enough to drive in. We had groups go into the creek in each direction to explore a little and each found that there was some clearing needed to keep going. We had one chainsaw so we cleared at least a mile if not more of one section of tree limbs and other debris before turning around to go in the opposite direction. This creek will be very fun for those that like driving in water and a more rocky trail.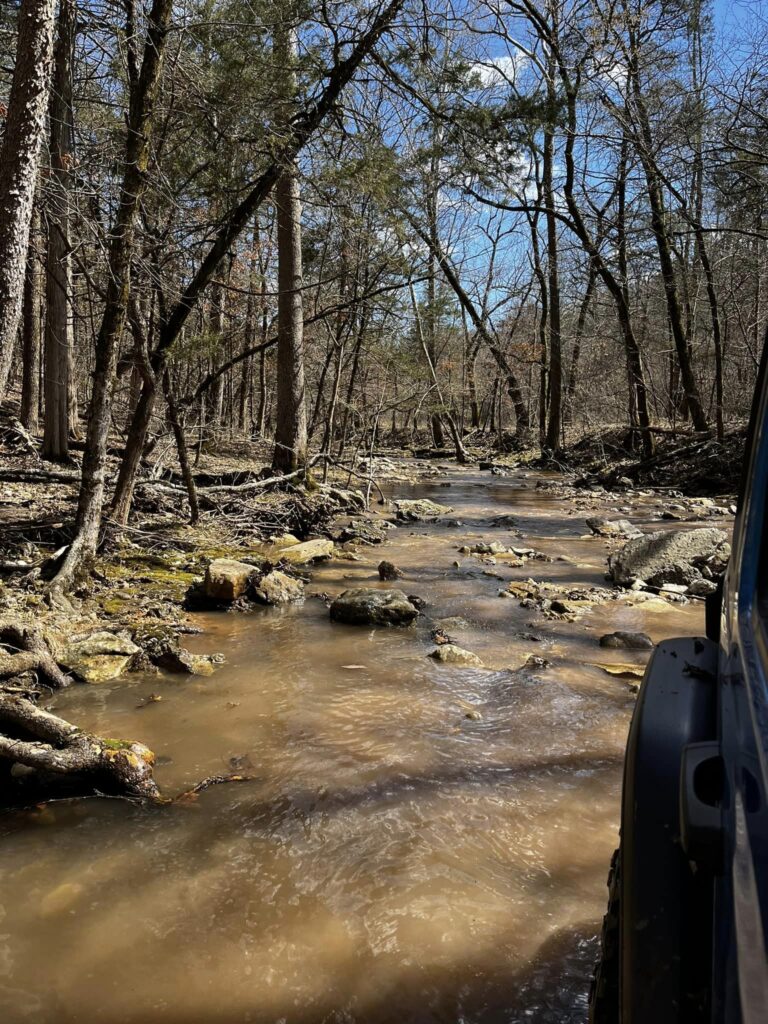 After a lengthy dip in the water, we continued onward and the next trail we chose led us to the elusive waterfall we were told about. The waterfall is basically at the start of the creek we had been exploring. It is steep with an undercut ledge near the bottom surrounded by more ledges that with some work will make this a fun play area.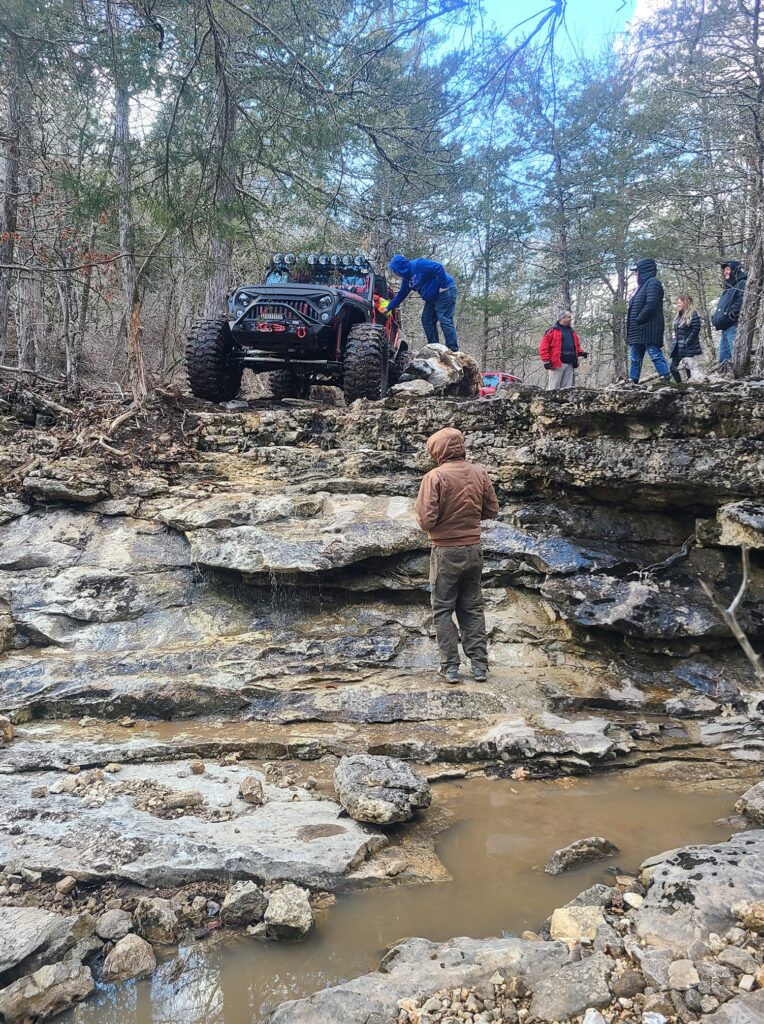 All of our wheeling groups converged at the waterfall and it was decided we would wrap things up and head back to the parking area to air up and head to dinner but we couldn't depart without a group picture.
We are thankful for the opportunity our club was given to visit and we look forward to seeing the park further developed into a great wheeling place for all to enjoy.